Nutritional Counseling to Promote Cat Health For Life
At 9 Lives Holistic, careful dietary research led us to carry only the healthiest cat food and treat brands available, some of which cannot be found locally anywhere else. We also carry quality nutritional supplements and herbal remedies for a truly holistic approach to providing your cat the best, healthiest life. If your cat is experiencing food allergies, skin problems, or other ailments, we also carry high-quality limited ingredient diets to address these issues. "Let food be thy medicine" applies to our furry family members, too!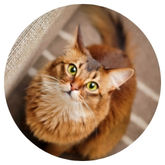 Cat Nutrition
The first step to lifetime wellness is a healthy diet. Cat families need to understand that you are living with an obligate carnivore. That means, meat is not an option! Your cat needs a meat-rich diet for optimal health. Cat foods laden with meals, grains, peas, beans, fillers, dyes, artificial and "natural" flavors not only don't fully address a cat's nutritional needs, but they can actually cause cats to overeat, because they aren't getting the meat they need. We can help you calculate calories for your cat, whether they need to gain weight, lose weight, or maintain weight. We can help you understand how to read labels, how to differentiate "marketing" details from actual nutritional information that will benefit your cat. We can suggest healthy diets to address allergy issues, and more. Please don't hesitate to pop in and browse or ask questions. We're here for the health of your cats.
WHAT Fredonia CUSTOMERS ARE SAYING
We love our customers, who come to us from Fredonia and all over Western New York and Northwestern Pennsylvania, including Fredonia, Brocton, Sheridan, Jamestown, Westfield, Silver Creek, Dunkirk, Erie, Hamburg, East Aurora, South Dayton, the Conewango Valley, and more!

Come visit our shop in Fredonia, NY, specializing in the highest quality food, healthiest treats, handmade toys, herbal remedies, and other holistic and eclectic pet supplies.